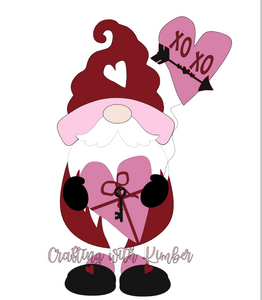 This listing is for the Valentine "outfit" only, and does not include the basic gnome. Please check listing to order, if you don't already have that.  
Dress your little gnome in his Valentine best for February!    Place him on your mantle, entry way table or wherever you want to bring a smile.   With this "outfit", he stands just shy of 13".   This 3D kit is loaded with all kinds of fun goodies and detail to make him extra fun!    You will receive a new body overlay (so you can match the season) a hat, hatband and hatband overlay, boots, a heart shaped box of "candy", and an extra heart for his "balloon" with XOXO and arrow.   He's  just so stinkin cute!!! 
The pieces in this kit are specially designed to fit and nest perfectly with the pieces of the 12" Interchangeable Basic Gnome kit.   All options for this kits and sizes are listed separately due to weight and shipping.  Please make sure you choose the option that includes the basic kit, if you don't already have it.   Please message me if you have any questions :)    Happy Crafting!