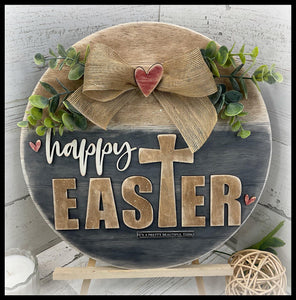 This simple but beautiful sign is just perfect for celebrating the meaning of the Eater season and would look beautiful on your door, sitting on your mantle, or anywhere you want to share your message.
Sign board is cut from 1/4" wood  with score lines, and comes in either 12" or 15".  Lettering is cut from 1/8" wood.   
Sign set is sold as wood kit only and does not include greenery or bow.