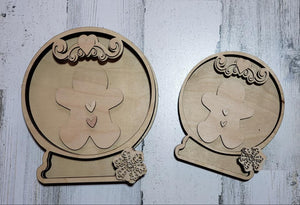 Oh my goodness!  These Gingerbread Snowglobe shakers are just too cute!   AND, they come in 2 sizes!  Adorn your tiered tray with the smaller one.  Use the bigger on your mantle or even your coffee bar!  Wherever you decide to put them, they're sure to bring a smile and a warm fuzzy feeling of Christmas <3    
The Shelf Sitter size measures 8" tall and 6.5" wide.  This kit is 3 layers with the middle layer being 1/2", and will measure apox 3/4" thick when finished.   
Tiered tray kit measures 6" tall and 5.5" wide.  This set is also 3 layers but will only measure half inch thick when finished.  
Both Kits come with acetate layer, gingerbread cutouts, snowflake cookie cut out, heart swirl for overlay, shaker contents and extra embellishments like bells, snowflakes, etc (items will vary depending on availability at ordering)